20 июня 2016 года
Backed by billionaires' cash, Russian food exports are now worth more than Kalashnikovs and all other military hardware combined.
Deep in the Caucasus, downriver from Europe's highest peak, North Korean women roam Soviet-era hothouses growing what tycoon Vladimir Evtushenkov is betting will be his next big bounty: the T-34 battle tomato.
The plump hybrids, named for the fearsome tank that helped trounce Hitler, are the pride of the Yuzhny Agricultural Complex, a mass of greenhouses the size of 2,300 football fields between the Black and Caspian seas. Watered by melting ice from towering Mount Elbrus, they and other strains of the fruit are grown here by the millions and trucked mainly to Moscow, 18 hours' journey north.
Evtushenkov, at 67 the oldest of the top 40 Russians in the Bloomberg Billionaires Index, has impeccable timing. His AFK Sistema, which invests in everything from cellular services to medical clinics, acquired Yuzhny in December, the same month Vladimir Putin re-affirmed achieving food self-sufficiency by 2020 as a national goal. And unlike Josef Stalin's first five-year plan, which led to the Great Famine, Putin is dangling profit rather than prison to motivate the masses. Once a totem of communism, T-34 is now a symbol of patriotic capitalism.
"This is a very promising area," Evtushenkov said in an interview.
War's Blessing
Stung by oil's collapse, the ruble's plunge, financial sanctions over Ukraine and the longest recession of his 16-year rule, Putin, 63, is seeking to minimize Russia's reliance on markets he can't control. Counter-sanctions imposed on food imports and an unprecedented raft of subsidies have made many areas of farming more profitable than even crude, which Putin once called Russia's "golden goose." Food prices have soared along with inflation, which is running almost double the central bank's 4 percent goal, shifting even more wealth from hard-hit consumers to well-connected producers.
Take Ros Agro Plc, the sugar and meat producer controlled by billionaire Vadim Moshkovich. It last year received about 3 billion rubles ($46 million) in state support and paid zero tax on profits, helping to boost its net earnings margin to 33 percent, 28 points more than oil major Lukoil PJSC. The company's Moscow-listed shares have almost doubled in the last year.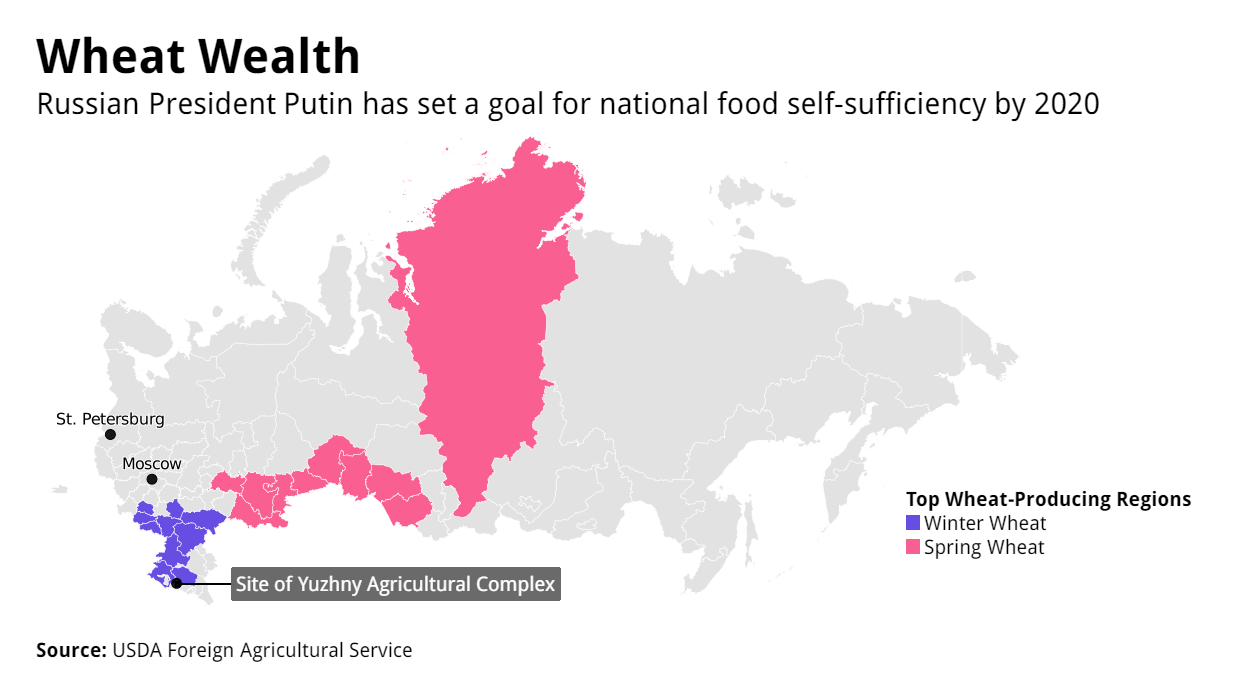 Putin has even turned war in the Middle East into a blessing for growers.
After Turkey downed a Russian fighter jet along the Syrian border in November, Moscow responded by banning a range of produce from its former ally, leading authorities to broadcast videos of inspectors enthusiastically bulldozing Turkish tomatoes. Just a few weeks later, with Yuzhny's biggest competitor swept from the market, Evtushenkov acquired the complex and the organic tomatoes and cucumbers it produces for an undisclosed sum.
Health, Wealth
"Russia is able to become the world's largest supplier of healthy, ecologically clean and high-quality food, which Western producers have long lost," Putin told parliament after the Turkish ban was imposed.
Russia last year joined dozens of nations in banning the commercial planting of genetically modified organisms and has since barred GMO imports -- putting Putin at the vanguard of an increasingly vocal global movement.
But the crowning achievement of his food strategy so far is grain. Russia overtook the U.S. this year to become the biggest exporter of wheat -- a milestone that followed bumper yields of corn, rice, soybeans and buckwheat.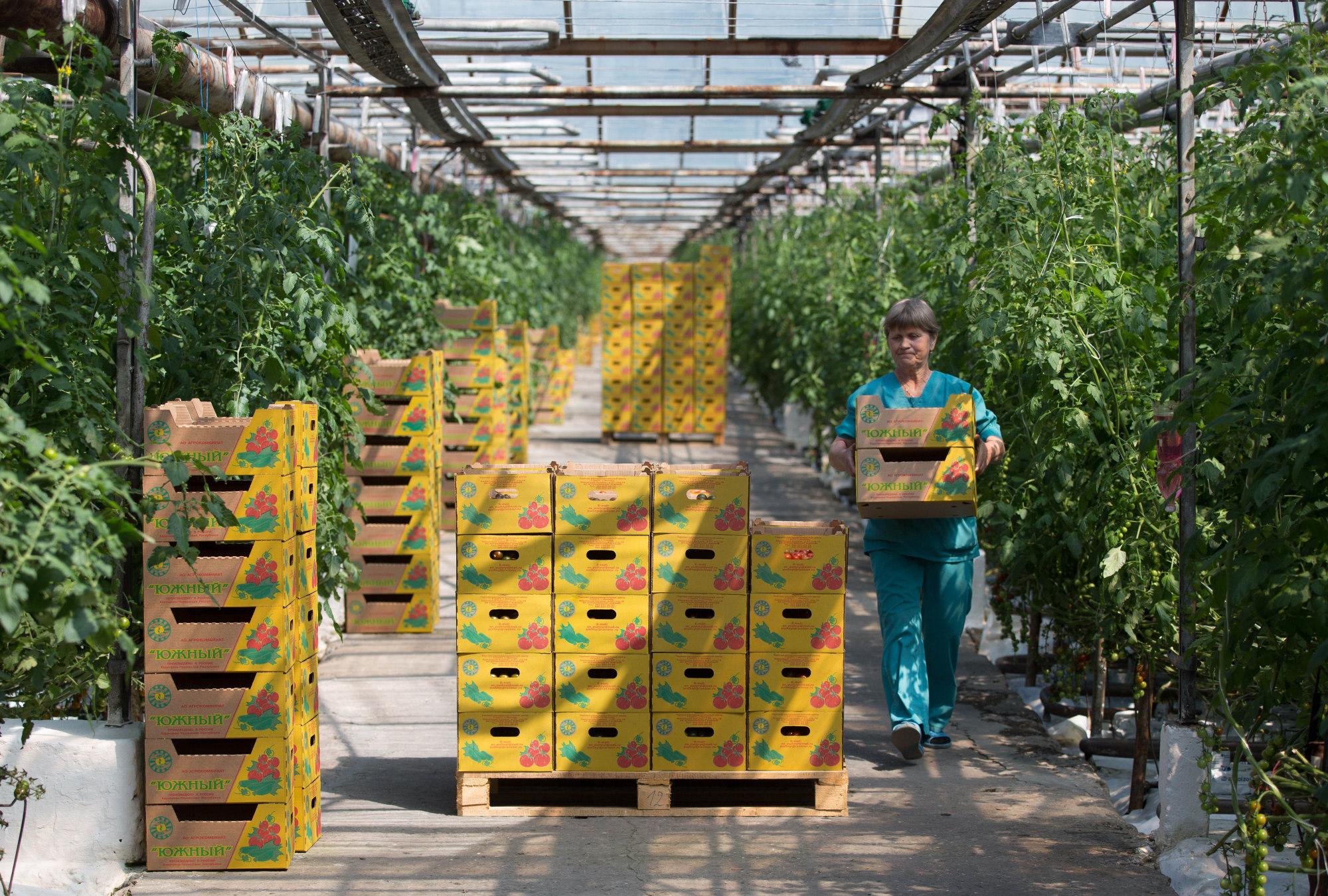 These strong harvests and Putin's financial incentives have set off a land rush in the fabled Black Earth belt of central Russia and other fertile regions.
"The two hottest investments for rich Russians are farmland and European hotels," said Yevgenia Tyurikova, the head of private banking at state-run Sberbank, Russia's largest lender. "This trend is absolutely new."
Plum Assignment
Phosagro OJSC fertilizer tycoon Andrey Guryev, real estate magnate Samvel Karapetyan, United Co. Rusal chief Oleg Deripaska and Putin ally Gennady Timchenko are just a few of the wealthy Russians who are riding the wave. Another big beneficiary of the boom may be the agriculture minister, Alexander Tkachev.
After Tkachev was promoted from governor of the southern Krasnodar region last year, Putin called on "our" producers to fill "our" markets "quickly" -- and the new minister was happy to oblige.
His family's Agrocomplex JSC owned 200,000 hectares of arable land when he became minister, according to data compiled by consultancy BEFL. Now it has 456,000 hectares, four times the size of New York City and one of Russia's 10 largest landholdings. The company's net income, including from dairy and chicken farms, tripled between 2013 and 2015 to 6.6 billion rubles.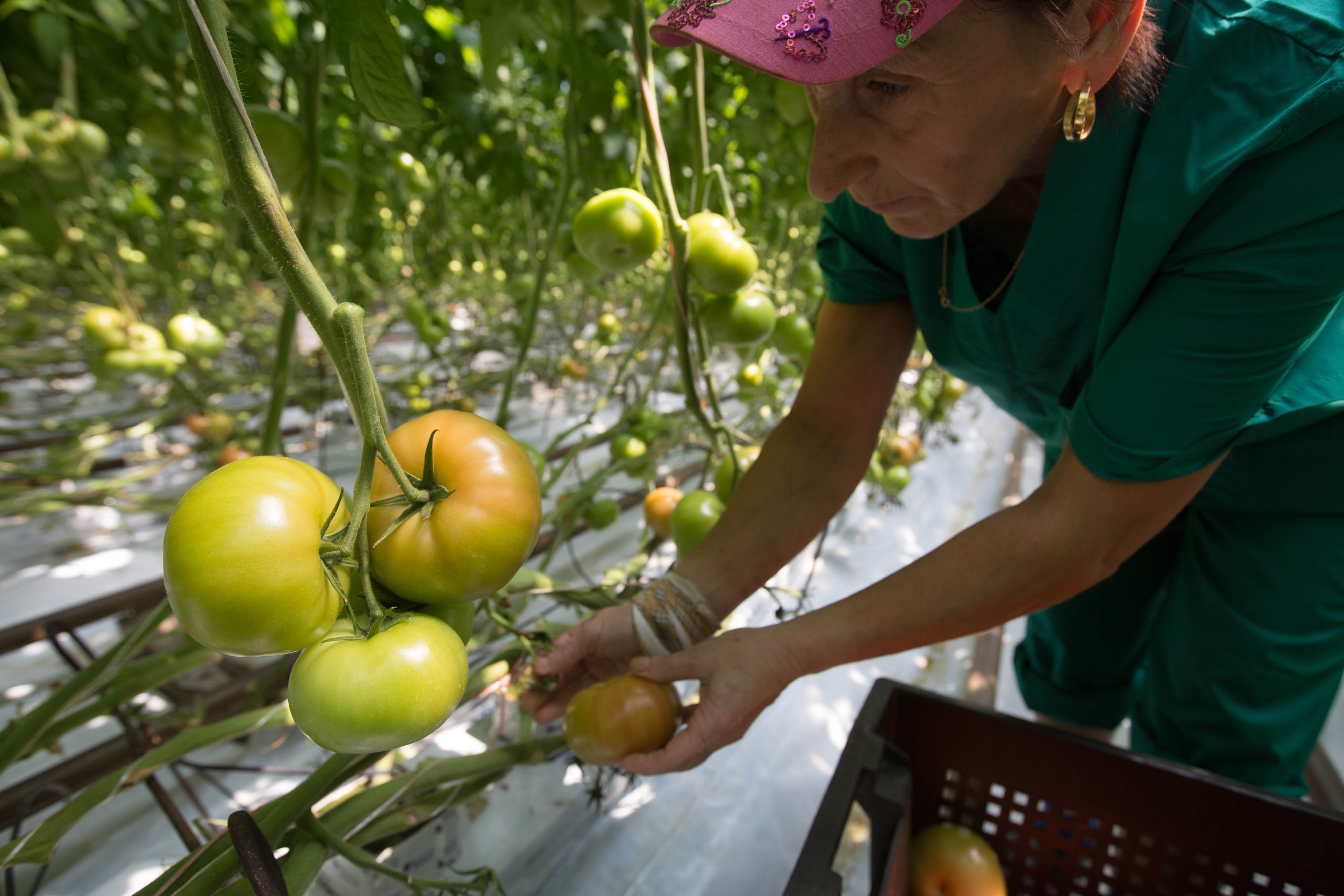 There's plenty more to go around. By some estimates Russia has more than 40 million hectares of idle land suitable for growing, an area about the size of Iraq. Putin has urged the state to consider giving some of it away to create more farmers, the opposite of Stalin's disastrous collectivization.
Even if sanctions weren't in place, oil's sudden crash and the sliding value of the ruble were a clear wake-up call that Russia can no longer afford to dither when it comes to developing its other innate superpower -- land, said Marat Ibragimov, an analyst at BCS Global Markets in Moscow.
"It's becoming harder and harder to explain to the electorate why people have to buy imported cucumbers and tomatoes, given how much land Russia has," Ibragimov said.
Bitter History
Turning the world's largest country into a food colossus is a goal with a long history that faces an equally lengthy list of challenges. Soviet leaders from Lenin to Khrushchev all sought to impose sweeping changes on the industry, often with tragic results. Agriculture was haphazardly privatized after the fall of the Soviet Union a quarter century ago, with many large collective farms splintering into small plots whose owners struggled to keep pace with technology.
Today many farms are inefficient, with cows producing as much as two-and-a-half times less milk than in some other countries, according to Kirill Dmitriev, who runs the state-backed Russian Direct Investment Fund, or RDIF. Roads and other infrastructure are poor, high-tech equipment scarce and there's little production of key products like beef and cheese.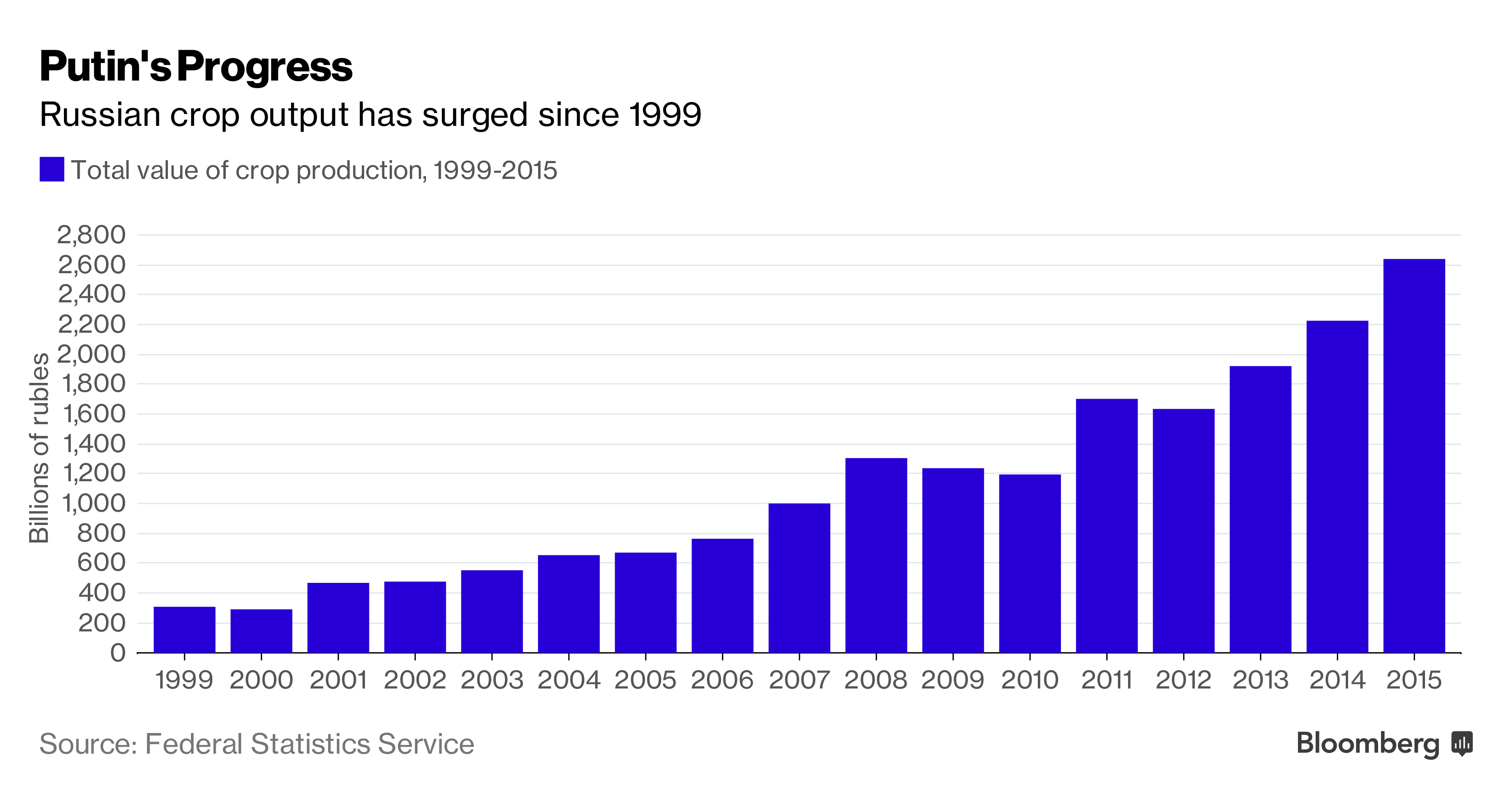 A lot of growers "are in a lot of debt, not in particularly good shape, and often are not in the right place" because of dubious Soviet planning, said Richard Connolly, who studies the Russian economy at Chatham House in London. "They require a hell of a lot more than simply getting people to put their money in."
Still, the grain surplus, combined with the weaker ruble, helped lift food exports to a record $20 billion in 2015, more than the country earned from arms sales. Altogether, agricultural output increased 3 percent last year, helping to trim the overall economic contraction to 3.7 percent. And as exports advance, imports retreat. Russia has slashed international food purchases by about 40 percent since 2013, to $26.5 billion last year.
"If someone were to ask me what the most proper and profitable business to invest in now is, I'd say agriculture," said Alexander Lebedev, a former KGB officer turned businessman who co-owns Russia's biggest potato grower.
Mideast Toehold
Putin isn't relying on rich Russians alone to drive expansion. Russia is also courting companies in Asia and the Middle East -- the only real option since other large economies have imposed sanctions. The RDIF is creating a $2 billion fund with China to invest in agricultural projects, and last month formed a joint venture with Thailand's CP Group to build Russia's largest integrated dairy complex. It's also working with Egyptian banks to create an export hub for Russian grain on the Suez Canal.
If successful, these efforts will go some way toward meeting Putin's stated goal of re-orienting economic ties away from the West and toward emerging markets.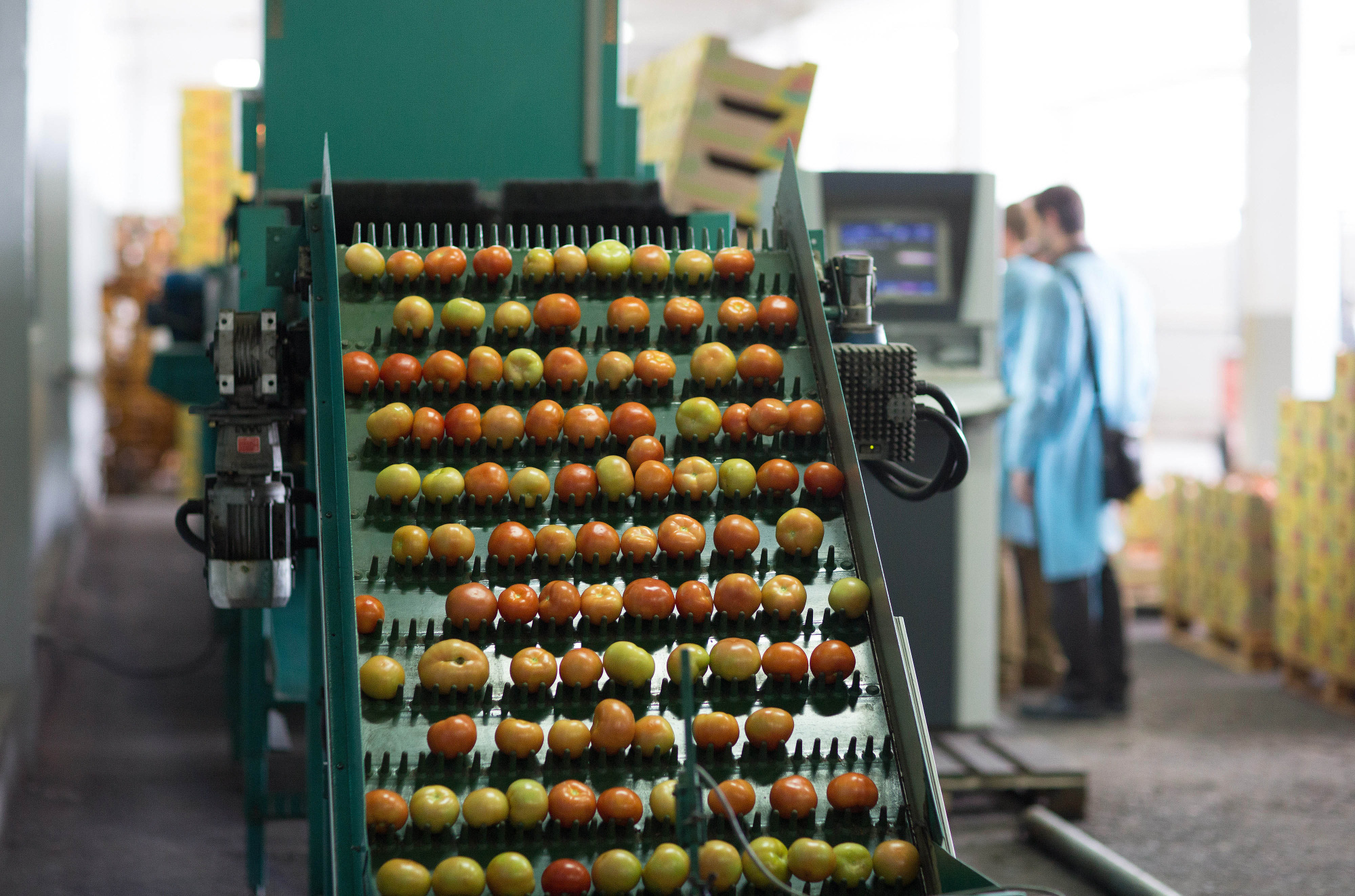 It's a sign of the importance Putin places on slashing reliance on foreign goods and turning a moribund industry into a rare source of growth and steady employment that Evtushenkov has been given free rein to expand.
Just two years ago, the billionaire was placed under house arrest during an investigation into the ownership of Bashneft PJSC, the oil producer he gained control over after his ally, Prime Minister Dmitry Medvedev, became president in 2008. He wasn't released until a Moscow court ordered the company nationalized. Putin served as premier under Medvedev until 2012, when the two men switched jobs again.
'Drown the World'
Now Sistema, which spent about 9 billion rubles on agricultural expansion last year, is shopping for more land and seeking to become one of Russia's top five milk producers. The company is also modernizing Yuzhny, which will entail hiring more local laborers to replace its 100 or so North Korean "guest workers," a legacy of Soviet trade with the Hermit Kingdom. The facility is showing its age; some buildings are old enough to still bear rousing slogans like "Communism is the youth of the world!" Power accounts for almost a third of production costs because even in southern Russia the mercury drops too much at night for plants to grow sustainably.
"We have big plans" for agriculture, Sistema CEO Mikhail Shamolin said, citing opportunities to crank up cheesemaking, put fresh tomatoes on tables from St. Petersburg to Vladivostok, and "drown the world" in tasty Russian apples.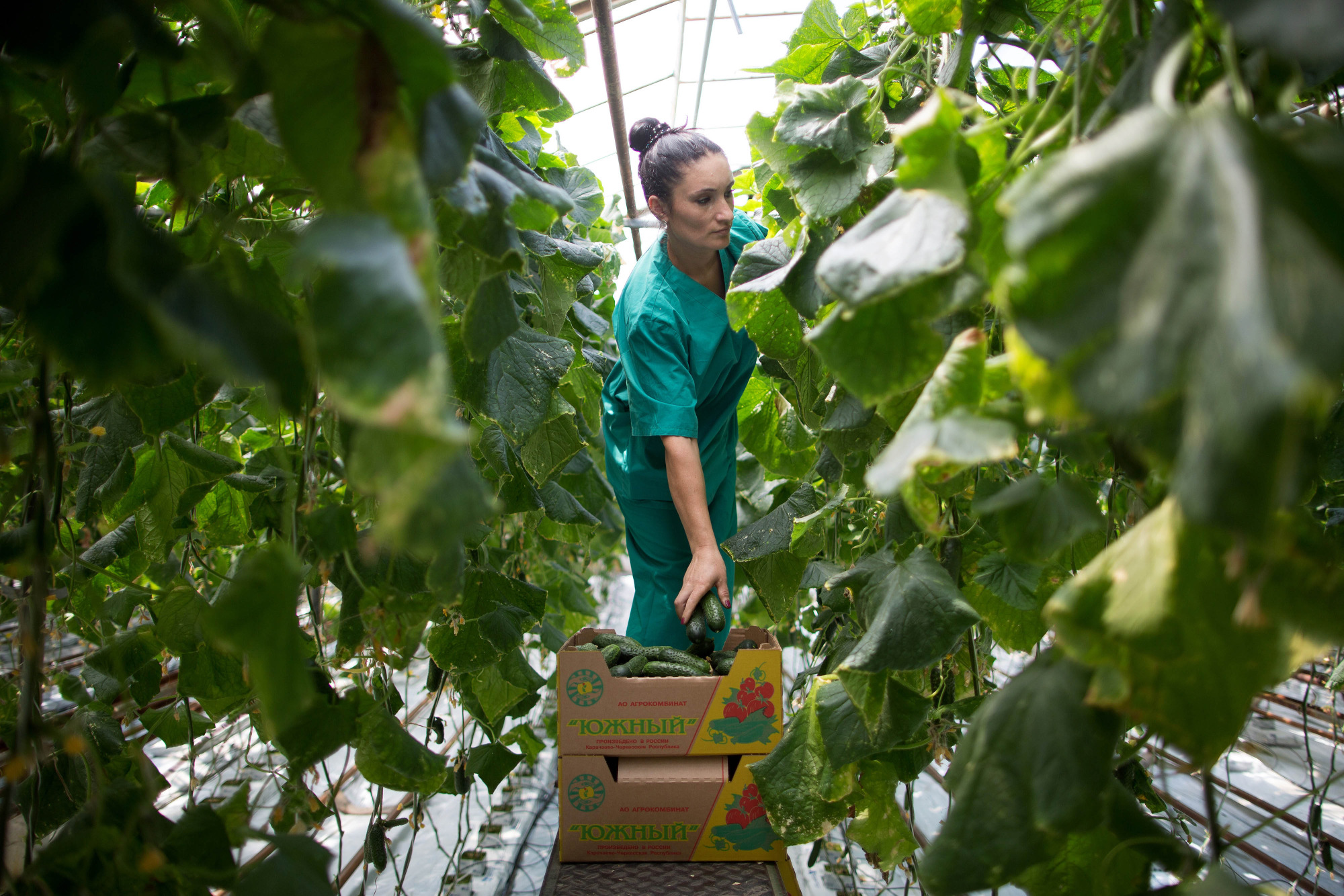 Yet even as Putin rallies magnates to his cause, the hard slog of turning Russian farming around will fall, as it always has, on the shoulders of workers like 57-year-old Sekhernaz Akhmedova. She's been employed at Yuzhny since the 1980s, first for the Soviet government, then for state banks in Moscow and now Evtushenkov, slicing cucumbers from vines with a knife so small it seems grafted to her fist.
Asked if achieving Putin's goal of total self-sufficiency depends on workers like herself, she shrugged.
"We work hard and fulfill the plans," Akhmedova said. "I only wish they would give me a raise."
—With assistance from Irina Reznik, Alex Sazonov and Andrey Lemeshko.
Source: Bloomberg | #vegetables #grain | Comments: 0 Views: 470

There are no comments yet. Be the first!

Only authorized users can comment.