IKAR in Mass and Industry Media
The Gluten in Wheat
Bloomberg, 02.08.17
Why Minneapolis is the world's hottest commodity market.
The most exciting corner of the world's commodity markets over the past few months hasn't been in London, New York, Chicago, Singapore or Shanghai. Since late May, if you wanted to set your pulse racing, you'd have been better off heading to Minneapolis.
Hard red spring wheat, a variety grown in the northern plains of the U.S. and traded on that city's Grain Exchange, has risen by almost 42 percent over the past two months, reaching its biggest percentage premium over Chicago's winter wheat contracts in at least three decades.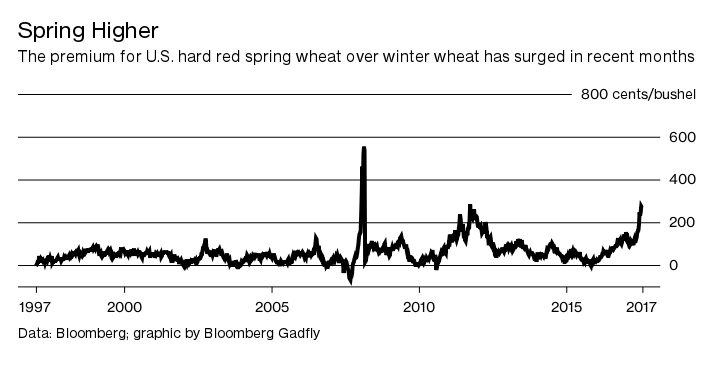 To understand why, consider gluten. The protein that gives bread its characteristic springiness -- and causes all manner of digestive problems among people with dietary intolerance -- has been in short supply in recent harvests. Protein should typically be at least 12 percent of the hard red winter wheat crop by weight, but this year it's been hovering around 11.3 percent, according to U.S. Wheat Associates, an export-promotion group.
That's a problem for bakers. Lower-protein wheat is fine for making noodles, bagels and biscuits, but without a good slug of gluten, a loaf lacks bounce. To get around this shortcoming, millers often blend in some of the Minneapolis-traded spring wheat, which runs to at least 14 percent protein.
The difficulty this year has been that both sources of protein have been looking weak. After years of low prices, farmers in the U.S. last year planted the fewest acres of winter wheat in a century. Meanwhile, the northern states in which most spring wheat is grown have been hit by drought, raising the odds of a poor harvest.
A similar dynamic is playing out across the world. Downpours in Germany and dry weather in Australia, France and Spain have sent wheat prices surging in Paris and Sydney. Global demand for gluten has pushed the spread between higher- and lower-protein crops at Russian Black Sea ports close to a record high, according to the agricultural consultancy IKAR.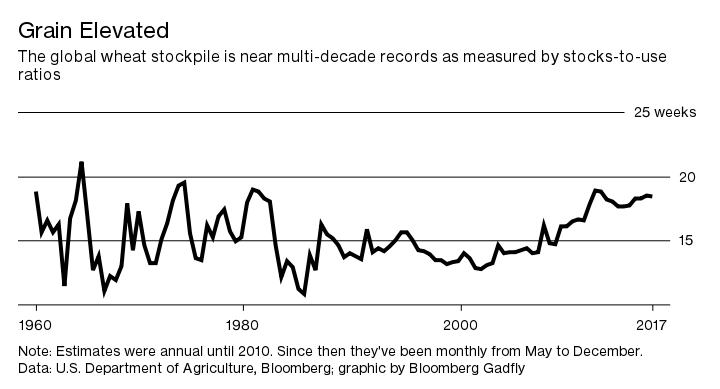 All this is happening at a time when wheat, overall, is reasonably abundant. The world has sufficient stockpiles to satisfy more than 18 weeks of consumption at present, according to the U.S. Department of Agriculture, some of the highest levels since records began in the 1950s. But not all wheat is equal.
Just as unusual conditions in the coffee market have led lower-quality robusta beans to sometimes cost more than aromatic arabicas over the past year, a focus on wheat protein rather than just the grain itself can create a bullish trading opportunity in a market that is generally well-supplied.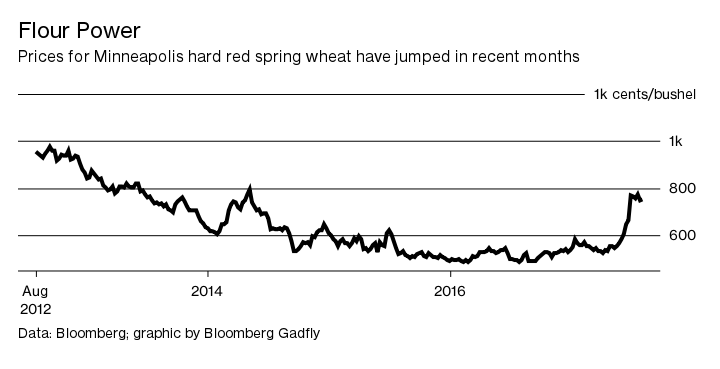 A smattering of rainfall in the Dakotas has held down U.S. spring wheat prices of late, but with the harvest set to begin in the next few weeks and investment funds taking their strongest long positions in winter contracts in two years, there's all to play for as the first crops start coming in. This column does not necessarily reflect the opinion of Bloomberg LP and its owners.
Our chart shows the difference in prices -- but if you consider the spring wheat premium as a percentage of the Chicago hard red winter wheat contract, the spike of 57 percent this week outstrips even the commodities freak-out of early 2008, when the premium peaked at 52 percent.
https://bloomberg.com/news/articles/2017-08-01/the-gluten-in-wheat-s-rise
All viewing: 146
Discuss